Dear Sport Fan,
Finally, we are ready to lift the (open) secret.
Much has happened at SILVERWINGS and I would like to update you on major events. Please lean back and enjoy…. You already know how Janssen, Schellens, Reynaert and others did their racing. Without weakness and despite the change in direction from SW to SE. Unbeatable for a couple of seasons on the RV – and RegV – level. From 2005-2010: 47 pure victories. On almost every second race day, one of my SILVERWINGS won.
Now my team is going to be reinforced! It was a couple of years back in China, in Beijing to be precise, during the Langfang show and also during some One Loft Races when I got to know a "Young Radical" Belgian. He was racing together with his father under the flag of St. & A. Steenbergen in the province of Limburg.
Driven by good ambition, Stefan (the son) wanted to become a big shot. 10 victories in national and semi-national races during 2004-2010 and winner of the "Flandern Cup" in 2008, where almost all middle distance lofts of Belgium were competing.
What kind of pigeons are we talking about? The base is the Van Camp line. With 15 victories, the 3-times provincial ACE of KBDB – KLEINE LICHTE – is still shining in the center, even after 30 years. Strain Janssen x Flor Vervoort. This particular loft, named Van Camp-Goovaerts, started working with allrounders Vandersmissen very early: Strain Huyskens-Van Riel, for more than 60 years now, from 100 km up to 1. National Barcelona – with the same pigeons. Like the once famous tandem from Ekeren-Donk. Only today enhanced by NATIONAAL I – 8 victories (Schellens), HERO – 19 victories (Romain Loozen), HELSEN – 34 victories (Helsen/Jannsen), DEN 155 – 10 victories (Soontjes/Grondelaers/Herbots), etc.
Yes, dear sport fan, having seen these pigeons … crystal clear eyes, stable body, elastic muscles, smooth feathers and strong character… I was sure I found the right matches. An ideal complement for my SILVERWINGS.
PRINZ and STACY are siblings and top pigeons in recent years. Together, they flew 18 victories on the Half-Fond races. Beside the SUPER-KWEEKER bloodline (50% Vandersmissen) and the elite couple with KLEINE LICHTE of Van Camp-Goovaerts, we find the NATIONAAL I and the HELSEN, among others. Many people – from Europe to Asia – desired these two flight talents, but today they are breeding in Aschaffenburg.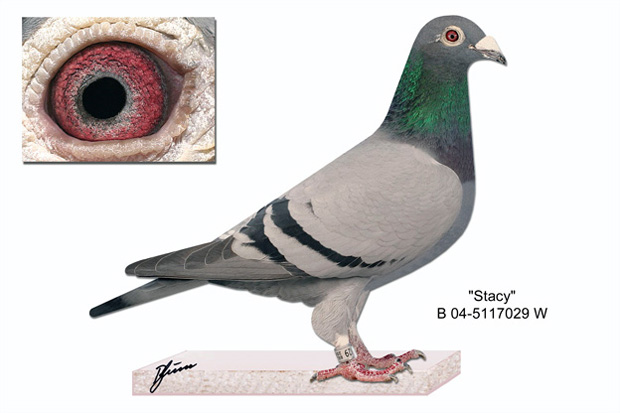 The OUDE VAN CAMP is a perfect stock pigeon. She never raced. She is still a grandchild of the SUPER-KWEEKER stock pair with KLEINE LICHTE stock couple. ZUSTER KIM is the full sister of the 1st National Argenton, descendent of SUPER WALTER (29/29 prizes – 7 x 1st prize – 1st and 2nd ACE KBDB), bred and raced by St.& A. Steenbergen, 50% Vandersmissen. Old basic-line Huyskens-Van Riel, very close to the WITTEN with his 22 x 1st prizes, combined with HERO and KLEINE LICHTE. The mother is an original Franz-W. Revermann, out of MAGIC 043, Olympic pigeon Utrecht`95, combined with a full sister of FIENEKE (Flor Vervoort).
My dear sports fan, it was a great pleasure bringing this news to you. Next year it will be possible for you to choose among these pigeons.
Yours sincerely
Eugen Schnarr