Sports fan Louis van Loon departed in 2012. This legend of carrier pigeon sport created a pigeon breed that easily wins competitions all over the world. The breed became particularly famous for being held in top pigeon lofts of, e.g., G. & C. Koopman, Hans Eijerkamp, Günter Prange and many others.
At the basis, we see the JANSSEN pigeon from Arendonk. For the last 20 to 30 years, it was essentially the two pairs "couple 1" and "couple 2" as well as combinations among themselves winning competitions.
The best pigeon ever to win in the Million Dollar Race in South Africa – "BIRDY" – descends from the same line. It was sold for 100 000 $ after its splendid career. Another precious product of this breed is the "261" of Günther Prange, who won 10 first prizes. But this is just a small extract.
The "BLAUWE VAN ´84", with his six first prizes, is regarded as the foundation cock, representing the male part of "couple 1". By the way, his click hen came from Karel Schellens and was none other than a daughter of the world-famous "NATIONAAL I".
Following this brief information, I would like to direct attention to the pigeons shown below. The likeable breeder Jan Keen began his successful career with the introduction of the Van Loon pigeons. His founding hen (B-029) is still from the direct offspring of the combination "couple 1 x couple 2" and also the grandmother of these "new pigeons" in my breeding loft.
Their fathers are full brothers. But only one of them was competing in events like, e.g., the 1st National Etampes vs. 9.679 p., 1st vs. 9.092 p., 3rd vs. 17.929 p. This was good enough for Jan to create a breed that was able to lead in the range between 100 and 800 kilometres. In the crossbreed with long-distance pigeons, he was able to deliver a convincing performance in the 1250 km overnight races. (By the way, Günther Prange also had a Jan Keen hen pigeon, a B-029 daughter. His "RINGLESS" was paired with the daughter to breed the mother of the 1st ACE Pigeon BRD´12.)
"SPEED ARROW", "MR. AD" and "TRIPLE CROWN" are cousins as well – they were the flagships of Jan Keen's racing pigeons. During their times in the racing loft, the three pigeons have been warrantors for top prizes and competition victories. Their recipe was simple: Never fail! Together they won countless awards and 47 prizes 1:100 (!) in big competitions.
Among others, SPEED ARROW won:
1st ACE Allround
3rd ACE Allround
3rd Internat. ACE Europa-Cup
4th ACE Allround/Prov.
6th ACE Middle Distance/Prov.
1st/10.666 p.; 1st/3.060 p.; 1st/1.263 p.; 2nd/12.246 p.; 3rd/14.139 p.; 3rd/2.665 p.; 5th/8.543; 5th/1.808 p.; 6th/11.933 p.; 9th/5.212 p. etc.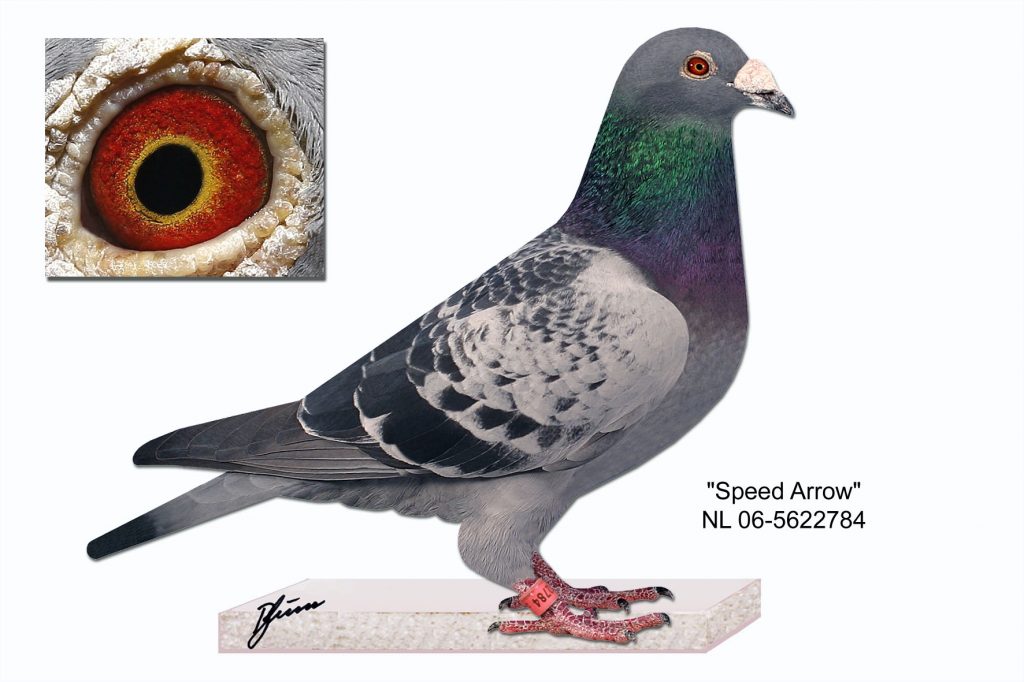 Among others, MR. AD won:
1st ACE Allround
1st ACE Long Distance
2nd ACE Long Distance/Prov.
3rd ACE Overall
4th ACE Long Distance
1st/358 p.; 5th/894 p.; 6th/1.189 p.; 6th/643 p.; 11th/12.698 p.; 11th/1.888 p.; 12th/3.776 p.; 15th/13.597 p.; 15th/6.612 p.; 23rd//21.955 p.; etc.
Among others, TRIPLE CROWN won:
49 prizes; he is a full brother to ACES like "TARZAN" and "BULLET"
1st/662 p.; 4th/1.350 p.; 7th/7.292 p.; 14th/14.139 p.; 15th/9.727 p.; 17th/18.072 p.; 28th/12.111 p.; etc.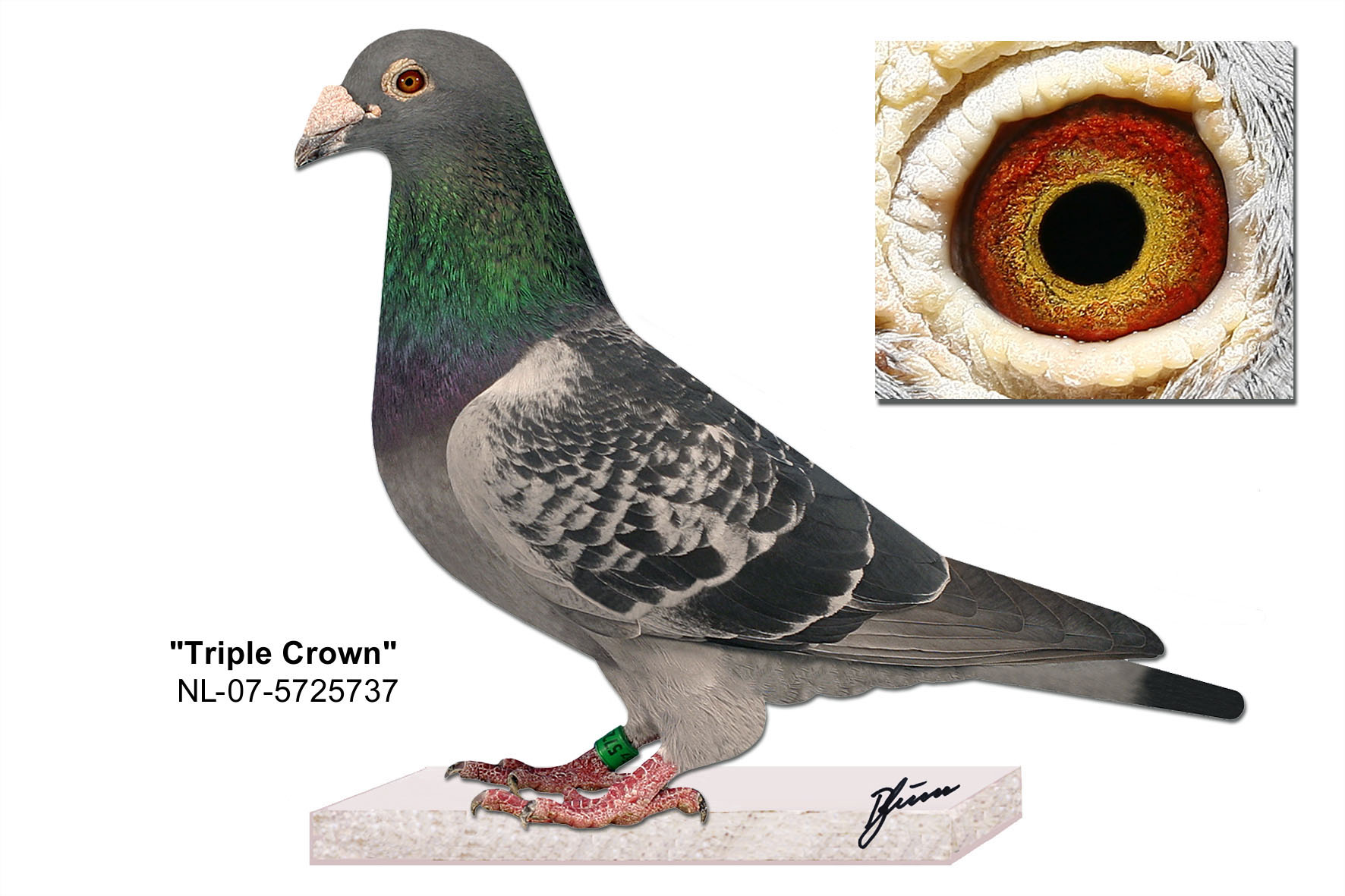 Looking at the mother side, we find "GOUDKLOMPJE", a Prange pigeon, in all of them. The mother is a sister of Dirk van Dijck's "KANNIBAAL", the father comes from André Bellens – from the pigeon loft that is co-responsible for the 330 line of Günther Prange.
Let me finish with a little anecdote. "TRIPLE CROWN" was originally held by Jan Keen under the name "Mr. Köln" (since he once lost his way as a young pigeon and flew to Cologne).
Following the purchase, I went to pick up the pigeon from Jan's place. There, it was confirmed to me that the 2011 SUPERCHAMPIONAT of the DE DUIF magazine was won by Günther Prange in Germany, by Dirk van Dijck in Belgium and by Jan Keen in the Netherlands.
These 3 breeders were the best that European pigeon sport had to offer in 2011. They all had their share in the success of "TRIPLE CROWN". So this name change seems appropriate to me.
Dear sports fan, I hope you have enjoyed this newsletter and the information contained herein.
Good flight!
Yours,
Eugen Schnarr