The entrepreneur Heinz Meier (†) led a big foundry for road and pipe bedding. Starting in his early youth, he was an enthused pigeon breeder; starting 1991, he became fascinated by the Schellens pigeons.
On December 15th 1991, 100 racing pigeons of Karel Schellens (†) have been sold at auction. The Herbots brothers took care of the transaction. 16 breeding pairs have been held back. They were designated to a Taiwanese buyer (with some exceptions). Heinz Meier had his own ideas on the subject and decidedly bought 8 pairs.
The purchase included ARGENTON, son of FENOMENALE and father to NATIONAAL I. Out of hand, he also acquired a brother of Argenton, siblings of Nationaal I, sister BIBBERKE, the POOT PAIR just to name a few, all from the absolute basis of the master breeder.
The word on the street is that half of Belgium is flying "in kampioenstijl", this includes Sjef Houben, Gommaire Verbruggen, Van Hove-Uytterhoeven, Louis Deleus, Maurits Voets, Van Cauter-Plas, Norbert Peeters, Gebr. Herbots, Jos Thoné and many more. In Germany, this includes Wolfgang Roeper, Hans Hirn, Uschi & Christian Harbeck, Thomas Röder, Hermann Ditges, Ludwig & Ludwig Kölbl, Toni Deigner, Heinz & Erika Meier… Karel Schellens, the cutter and trader of diamonds from Kessel always bought the best there is – the price didn't matter.
He wanted ACE Pigeons – and he got them. Schellens collected the best and at the same time, he reinforced the potential of his basis: the JANSSEN/A.
DE ENGELS with his 15 first prizes was among them, the best of Frans Lesage, the filiation of the JANSSEN Bros., JOSÉ, daughter to GEELOGER-JANSSEN/A., in cooperation with Stan Raeymakers, HOFKENS I and II from the DRIEBANDER of Gust Hofkens and in particular the offspring of the founding pair of Bergmanns Frans Stoces: Grandson of BLIKSEM (Huyskens-Van Riel) x granddaughter of BLAUWE VAN 48 x SCHOON LICHT VAN 51, the founding pair of the JANSSEN Bros. per se, an inexhaustible well up to this day: FENOMENALE out of ´76 was an (incest) grandson of the Stoces' founding pair, NATIONAAL I is a grandson of FENOMENALE and ARGENTON from H. & E. Meier was his son. Grandchildren of ARGENTON live up to this day (in 2017, also among SILVERWINGS). These are 45 years of pigeon breeding with success at the highest level in every generation. Heinz Meier got the picture of how to further develop this precious line successfully – with the best that European pigeon sport has to offer.
Not just with any pigeons, but with the actual aces, with breeding pairs or with direct offspring from the very best, like e.g.: G. & C. Koopman – KLEINE DIRK, GOLDEN LADY -, Dirk van Dijck – KANNIBAAL -, Clement Robben – BONNY&CLYDE -, Hok Vercammen – PANTER, YASMINE -, Marcel Sangers – parents to EAGLE EYE -, Van Hove – Uytterhoeven line Jg. Bange 2 -, Van Loon-Koppel 1 × 2 -, among others. With these pigeons, Heinz & Erika Meier could shine up to the association level – for elder pigeons, youngsters and ACE pigeons.
The era Meier ended with the total auction in 2013. Ever since this time, these pigeons are refining the successful Silverwings loft. The basis was enhanced by unbelievable gen potential. As a breeder, I am happy and proud to be working with such animals.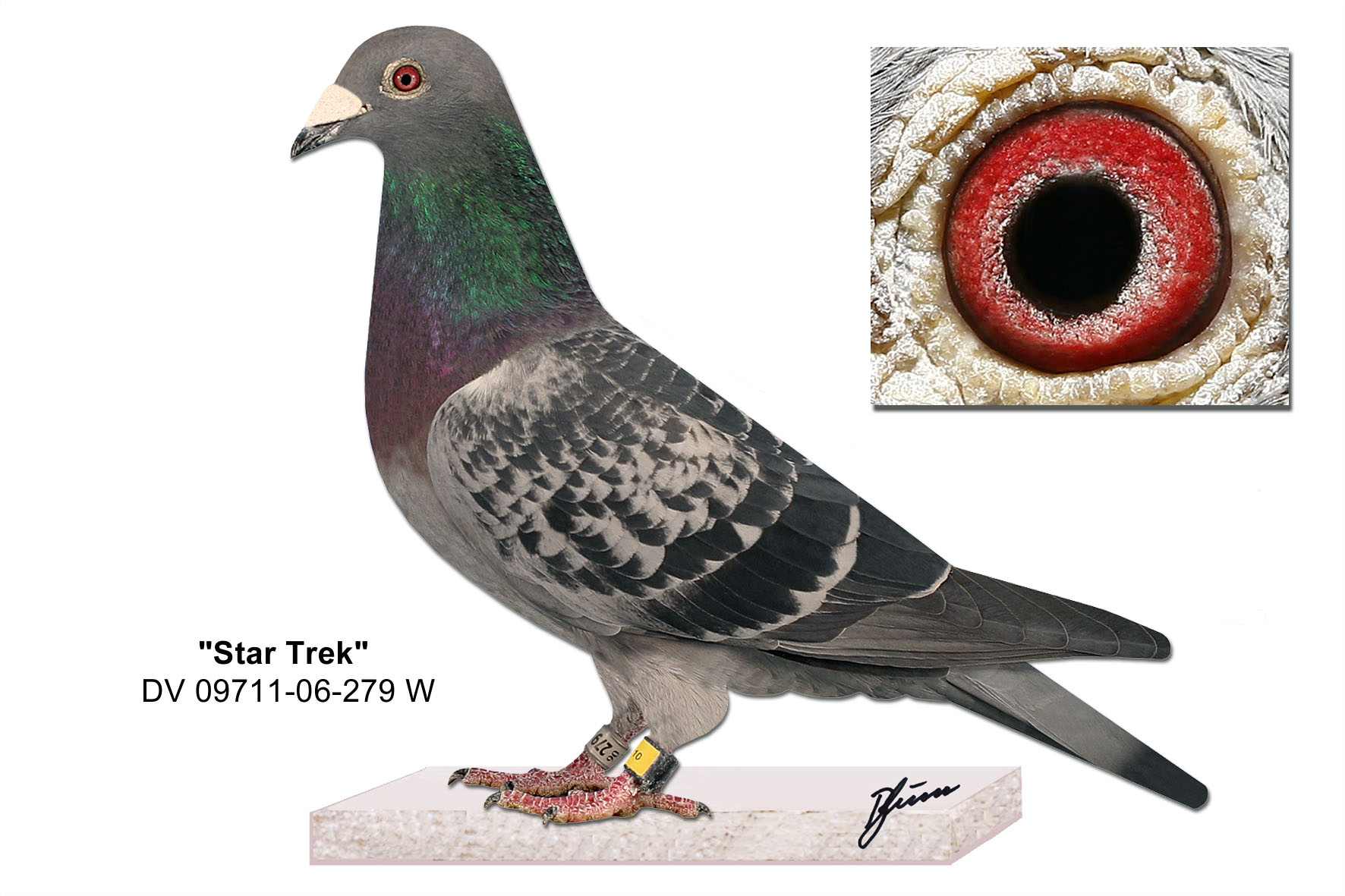 STAR TREK, alias "Die Schnelle", is a typical product of the Schellens-Meier pigeons. She flew 42 times winning 39 prizes, including 6 x 1st prizes. 2 daughters – 110 and 892- fly 34/33 and 19/16 prizes.
The father of STAR TREK, the BREEDING ACE 499, is one of Heinz Meier's founding pigeons. His brother is called warlord in America and his offspring is among the big earners in major races. The parents are the famous POOT PAIR from Schellens. The male part stems from CHANEL x JOSÉ (11×1st prizes from GEELOGER ´67, 16×1st prizes) via Stan Reaymakers. The mother is still a daughter of ENGEL, the founding pigeon of Schellens with 15 x 1st prizes. With STAR TREK's mother, we approach the time after Schellens. Extraordinary combinations of Janssen/A./Van Loon/Van Dijck: G. & C. Koopman with dauther of KLEINE DIRK with ZUSTER LIOBA.
PASSION, almost a "pure" Schellens incest product to the absolute basis. The father, the 495, founding pigeon at Heinz Meier's and the very best breeder=grandfather: 6th, 12th, 18th, 22nd, 22nd, 27th, 28th, 28th, 32nd, 34th, 38th, 41st, 46th, 46th, 48th, 51st, 86th ACE BRD.
Brother to the NATIONAAL I from ARGENTON X BIBBERKE, the TITAN PAIR from Karel Schellens. Again, the mother of PASSION has a son of ARGENTON as a father, this time with ZUSTER BIBBERKE. Heinz Meier assigned a daughter KANNIBAAL x ZUSTER RAMBO from Van Dijck as a mating partner. Karel Schellens would have liked this very much. This means a sure reinforcement. With such pigeons, you don't put all eggs in one basket and take lessons in patience. Currently (2016), among others, the 5th place in the MILLION DOLLAR PIGEON RACE (SAMDPR) in South Africa was won by a German. The mother of this pigeon is the 09711-06-604, a sister to PASSION; belatedly, a great honour for Heinz Meier.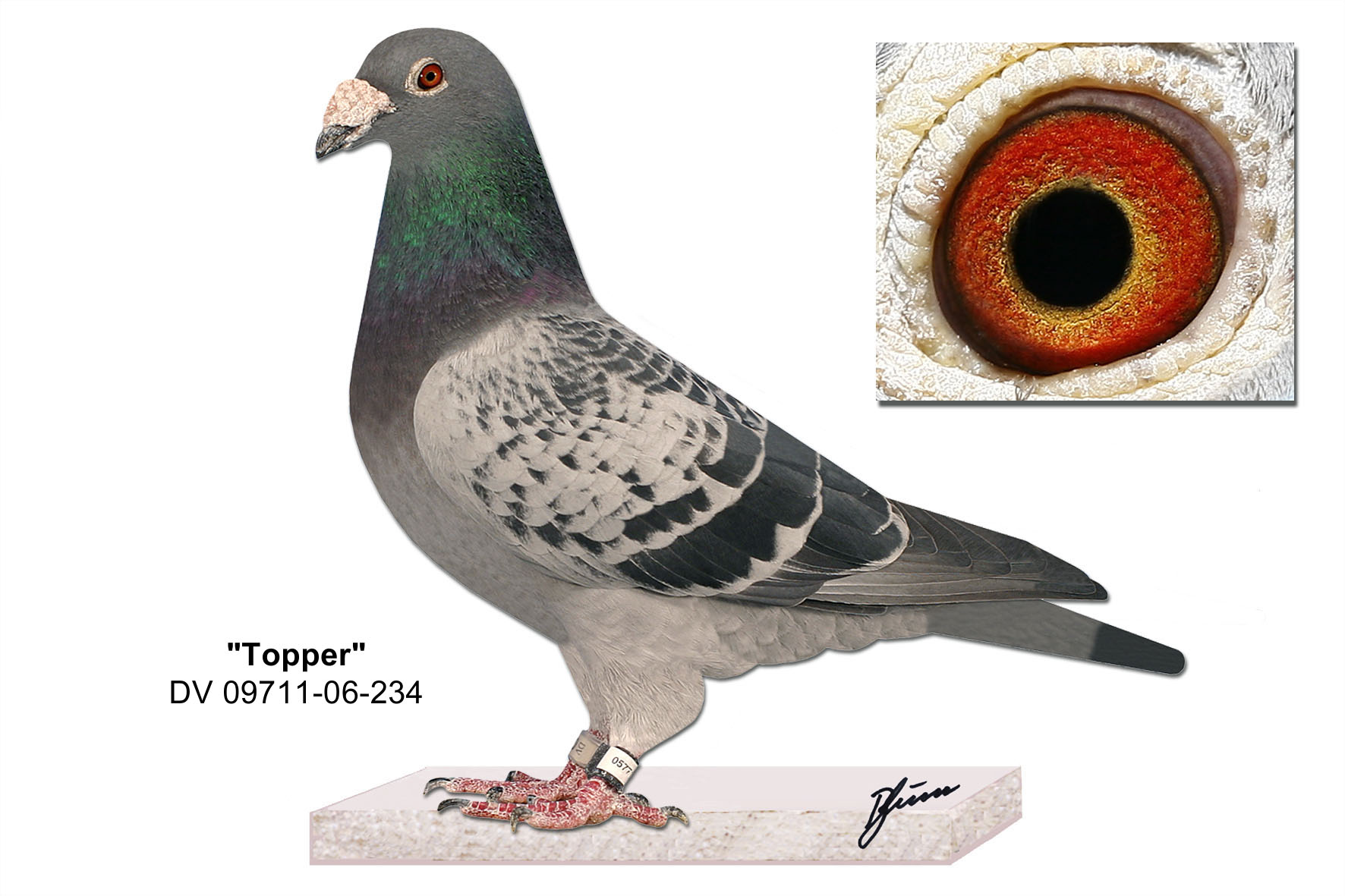 TOPPER, flew 47 times winning 42 prizes, father of the 17th and 59th ACE BRD. His father comes from the BREEDING ACE 499, founding pigeon of Heinz Meier from the POOT PAIR of Karel Schellens. This time, crossbred with BOLEROKE, a Van Hove-Uytterhoeven from the line of the Jg. BANGE 2, herself still a mother Mutter, among others, of the 11th ACE WHZB, 13th ACE BRD, 13th ACE NPO… The mother of TOPPER is a successful combination of the best son from KANNIBAAL (Van Dijck) at Meier's, with a hen from the line BRANCO x Van Loon via Antoon van der Veen from G. & C. Koopman.
13th ACE Pigeon BRD '07. In some pedigrees, he is listed as the 12th ACE Pigeon, but in the BT, he is officially listed as 13th (which is supposed to be a lucky number). He flew 48 times winning 42 prizes, his daughter AISHA flies youngsters 3/3 and 'yearlings' 10/10, she also breeds for Silverwings. The father of the 13th ACE Pigeon BRD is an original Louis van Loon, a combination of couple 1 x couple 2. His mother is the aforementioned BOLEROKE (grandmother of TOPPER), the Van Hove-Uytterhoeven from the Jg. BANGE 2 line, incest on ADONA. This pair bred further good ones at Heinz Meier's; among others, 4 sisters, including the 13th ACE Pigeon BRD, fly 196 times winning 174 prizes.
LIONEL, 1 victory, 33 flights and 27 prizes. Brother to one of Heinz Meier's favourite pigeons: 09711-03-015 (W) and again a successful product of Schellens/Koopman. The father is a son to DER 495, brother NATIONAAL I, from ARGENTON x BIBBERKE, the TITAN PAIR from Schellens. DER 495 mated with a sister of the famous PRÄSIDENT (3 children are at SILVERWINGS), father of 3rd, 4th, 12th, 28th, 34th, 46th ACE BRD; bred from BREEDING ACE 499 (3 children are at SILVERWINGS), son of the POOT PAIR with an incest product to the FENOMENALE, namely the ZUCHTPERLE 414. This concentrated power of the entire Schellens elite was paired with a daughter of KLEINE DIRK, now with WONDERLADY, sister LEI, granddaughters from BRANCO and daughters of the BLACK POWER LADY.
BLACK STAR, never raced, but full brother to 6th, 8th, 12th, 18th, 22nd, 38th, 44th, 53rd, 62nd ACE BRD, among others, to SUPERSTAR 275, flew 36 times, 36 prizes, 6th and 8th ACE Pigeon BRD, Father of 5th ACE BRD and fourth most expensive pigeon of the Heinz Meier auction in 2013. An unbelievably successful pairing: the father, DER KRACHER is the son of DER 495, (see above), i.e. grandson of ARGENTON, with a sister of NATIONAAL I. So this is an incest product to the TITAN PAIR from Karel Schellens, bred by Heinz Meier/Rahden. The mother of BLACK STAR is cast in the same mold, the ZUCHTPERLE 253. As yearling, 1st Best Hen of the RV, as breeding hen grand mother to 5th, 9th, 22th, 46th ACE BRD.
LOVELY RITA, is half-sister to LIONEL on the mother's side. LIONEL also breeds for SILVERWINGS. The father, the Belg -95-517 comes from ARGENTON x ZUSTER BIBBERKE, had very good flights at Herbots brothers, bred at Heinz Meier's. The half-sister, same father, the ZUCHTPERLE 253, is a daughter of YASMINE from Hok Vercammen. In other words, a successful crossbreeding of the PANTER line with the founding hen Yasmine, 8×1st, 5×2nd, 10×3rd prize and 5×1st ACE Duif.